Writer/Director
Behind the Camera
Feature Films, Music Videos, Short Films
Little Victories & Five Old Comedy Writers
A veteran producer/writer, Sy Rosen, was kind enough to enlist me into producing and directing two short films he wrote: Little Victories & Five Old Comedy Writers.
Little Victories stars Matt Walsh, Lila Garret & Sy Richardson. Five Old Comedy Writers stars Ed Asner, Peter Bonerz, Dyan Cannon, Otis Day, Christina Pickles with an appearance by Candy Clark.
Both will be unleashed on film festivals in 2019.
THE BUG
After producing several down and dirty shorts (see below), Richard Horvitz and I thought it would be a good idea to try something a little more ambitious. We enlisted the terrific Neeley Lawson to help produce and shoot and the brilliant Greg Lynn and boom: The Bug.
We've been accepted into six film festivals, winning "Best Sci-Fi/Fantasy" at the Glendale Int'l Fest and "Best Actor" at the Hollywood Reel Independent Fest.
 A priest a rabbi and an atheist walk into a bar. The bartender says "What is this? Some kind of joke?"
At some point, we will be making a few of these every month. This is the most fun I've had in this business of show.
Watch at www.youtube.com/somekindofjoke
Patrick Labyorteaux and I wrote and a feature film, Hollywood Palms, that got made and released right around the turn of the century. This was our fourth time working together after The Prince of Bel-Air, Summer School & Ski School.
Hollywood Palms was Jeffrey Nachmanoff's first feature and starred Judge Reinhold, Elizabeth Mitchel, Paget Brewster, Matt Adler, Matt Winston, Jeff Russo, Jay Ferguson, David Packer and me and Patrick, with a cameo from Eric Stoltz as Eric Stoltz.
Short Films & Beyond
I shot a short film, Glutton Falls with the brilliant David Packer & Shirley Anderson, and then used the same premise to shoot Former Me, a pilot for a web series that no one was interested in.
Steel Panther
Back before Steel Panther were Steel Panther and before they were Metal Skool, they were Metal Shop. They had released their own CD (I did the album graphics, too!) and I was the only guy they knew who knew how to make a video. 
I shot the video for Fat Girl with the now famous Lisa Weigand as my DP. I'd been harassing them about doing a TV series and they thought it was such a good idea, that their slick Hollywood managers did that slick Hollywood thing and attached famous people to a pilot for Comedy Central that I had nothing to do with. 
A couple years later, they asked me to shoot another pilot. And then another. 
I also directed another music video, Pussywhipped. This one had a big budget and I got to use my buddy, Wesam Keesh as the protagonist. The shoot gave him a concussion.
After that, they got some more famous people to do more stuff with more famous people. Welcome to Hollywood. 
#bitter
The Horvitz Years – Dickhead Firemen
I was whining about how we should work more to my friend (another Summer School alumni) Richard Horvitz and Richard said "Let's shoot our own stuff."
Duh…
We got all of our buddies together at a green-screen studio one afternoon and improvised a very LO-FI web thing called "Dickhead Firemen." It is intentionally shoddy looking. We just wanted to do stupid stuff and poke at that firefighter sacred cow.
Theater – The Nigerian Spam Scam Scam
Since 2004, I've sporadically toured a two-person show detailing my correspondence with a Nigerian 419 Scammer – "The Nigerian Spam Scam Scam."
The great Victor Isaac plays the Nigerian first lady, her son, Ibrahim Abacha as well as Ibrahim Abacha pretending to be a completely different scammer.
Fun Fact! Summer 2017, I went to Lagos, Nigeria to act in a movie called "The Nigerian Prince" that has nothing to do with my show. Coincidence?! Yes!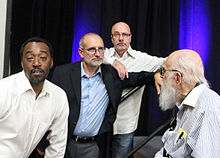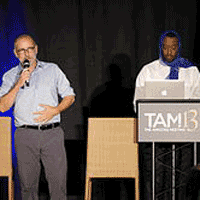 Theater – Bukowsical
A composer played some "funny songs" he'd written with a brilliant writer, Spencer Green, based on the premise of a Biographical Musical about Charles Bukowski. At that time, I'd been doing work with a great Los Angeles theater company, Sacred Fools, and took it to them and basically demanded a late night slot. We had no script and only three songs.
I thought that we should perform the show as a "backers audition" by a struggling theater company led by a minorly talented egomaniac and "Bukowsical!" was born.
Bukowsical! was a great show. Theater can break your heart.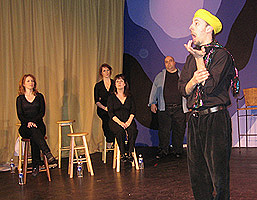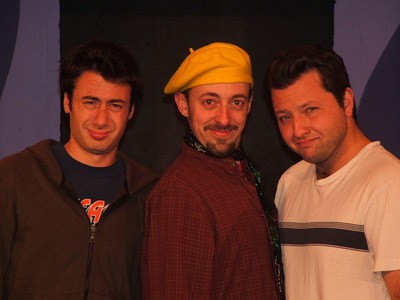 Writing
I've continued to write TV & Features. Contact my reps. Let's have lunch.
Allegory Creative Management