Ski School Trading Cards
A young genius named Clinton Keener and another young genius named Alex Riegel decided that the world needed Ski School Trading cards.
Clinton spent a large amount of coin on a labor of love and I am here to get him his money back!
WHAT'S IN THE BOX?
In the box are 69 cards (genius, right?) with stills from that movie you couldn't escape. There are quotes and a trivia quiz from Ski School. (Some would say that Ski School is trivia, but I don't want to begin that war, okay?)Â 
A Dave Marshak Helium Theater sticker and a Ski School Logo sticker are also included!
WHAT'S IN THE PACKAGE?
Not only will you receive a box with 69 cards (again: genius!) and two (2) stickers, but you will also receive a signed welcome letter from Dave Marshak, a notification from Mister Anton Bryce and a FAQ about the making of the cards. 
IS THAT ALL?
Hell no. We are talking about the best 80's movie made in the 90's, so… If you like, Dean Cameron, will autograph the box. 
I'M IN! HOW MUCH?
Not cheap. These are custom cards. Clinton spent a LONG TIME creating them and they are beautiful. Truly. There are only 40 sets. I include the shipping cost if that's any consolation.
YOU DIDN'T SAY HOW MUCH!
$100. (ONE HUNDRED AMERICAN DOLLARS)Â 
THAT IS A LOT OF MONEY
You are correct. I'm sorry. Dean wanted to charge double.
The Box!
Fitz Front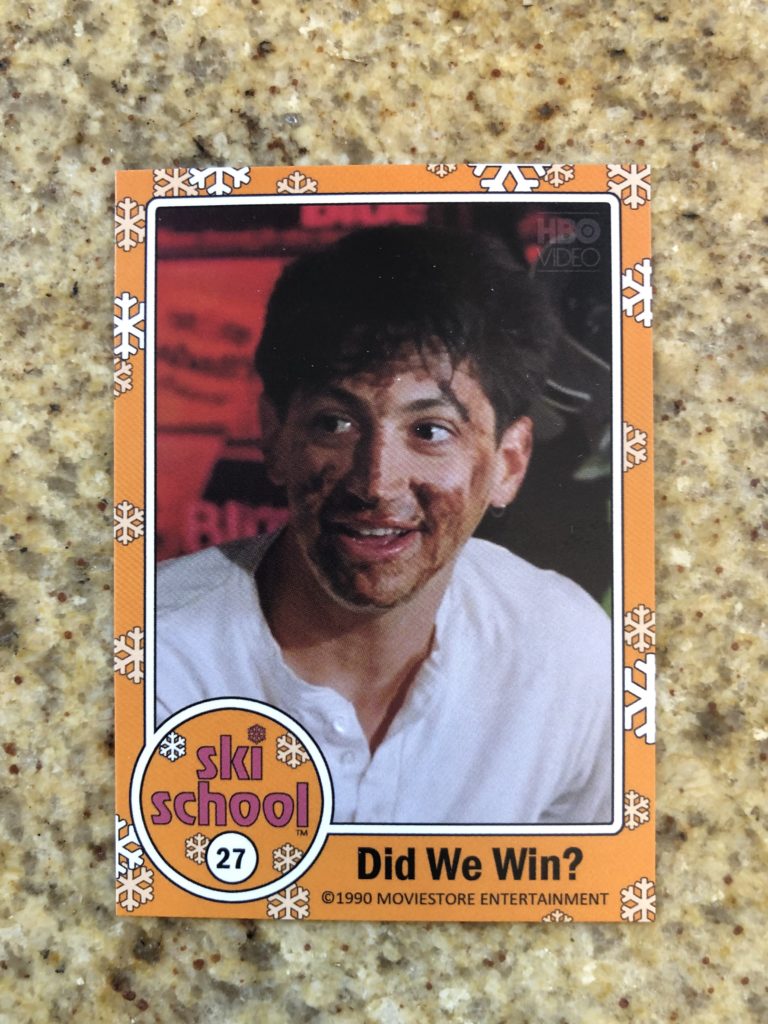 Fitz Rear!
Godzira Front!
Godzira Rear!